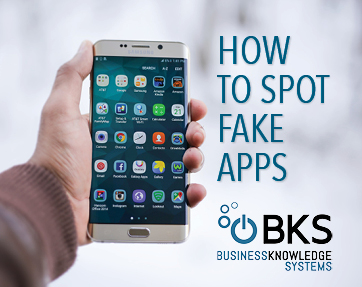 In our roles as a leading Chicago IT company, we occasionally field calls from clients who have mobile devices infected with malware or ransomware. These calls are yet more evidence that criminals are working 24/7 to find new and effective ways to scam technology users.
One of their latest tricks is creating apps that appear to be legitimate, but in reality install malware or ransomware on your mobile device. In the case of malware-infested apps, scammers can gain access to your personal information that's either stored on your phone or in apps you regularly use. Ransomware apps can take control of your mobile device, forcing you to pay the criminals to regain control.
You may ask yourself "How on earth could someone download an infected app?" The answer: It's actually pretty easy. Scammers create apps that closely mirror popular apps that are in the Google Play or iTunes Store to trick people into downloading them. These apps appear similar to the legitimate apps, but with subtle differences in appearance or spelling.
Counterfeit apps often make more frequent appearances around the holiday season when shoppers are looking for the latest bargain. In fact, the New York Times recently reported its tech reporters discovered hundreds of fake apps available for both Apple and Android devices.
So, how can you avoid downloading a malicious app? Here are some tips:
Carefully check who published the app Scammers use similar names when naming their apps and adding them to app stores, but there are often differences in spelling or appearance.
Buyer beware Apps that promise deep discounts, especially around the holidays, are more than likely fake. If you're unsure, double check store websites to confirm shopping deals.
Read the reviews A legit app should have dozens of reviews, while fake apps likely won't have any reviews or will have negative reviews.
Check the publishing date Real apps that are popular have been around a while. Fake apps come and go frequently and can usually be spotted with a more recent published date. Fake apps also never include update dates.
Check the spelling Many of these fake apps are created in countries where English is not the native language. Overseas cyber-criminals often don't bother double check their spelling or grammar.
About Chicago IT Consulting Company BKS
Does your small to medium-size business have problems with malware or ransomware infected devices? Chicago IT consulting company Business Knowledge Systems can help. We offer a full complement of IT consulting services, including spam/virus filtering and monitoring, cloud-based backups and storage, endpoint management and Microsoft Office 365 services. Contact us to get started taking charge of your company's IT.