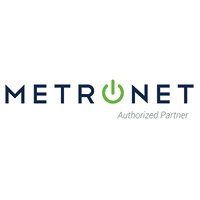 If your Plainfield business has been searching for an alternative to the internet, phone and cable services provided by the likes of Comcast and AT&T, you are in luck.
Earlier this year MetroNet along with Authorized MetroNet partner BKS Systems of Plainfield, began offering fiber optic 1 gigabit communications services in town. As a MetroNet partner, BKS can assist your business with the sales, implementation, and support in joining MetroNet's Fiber Optic service.
What makes fiber optic service superior to what is currently being offered in Plainfield? The answer is bandwidth.
A fiber optic connection to your business is the technology of the future that will keep pace with the rapid demands and expectations consumers have today. With MetroNet's 100 percent fiber optic connection, you can change the shape of your business' productivity.
Plus, with more data flowing through our network, you get a crystal-clear TV picture and clear, reliable call quality with phone services. All this, with expert local customer service.
MetroNet Internet in Plainfield
Pure 100 percent fiber from MetroNet delivers lightning-fast Internet — allowing you to share huge files, videos and diagnostic images in seconds. MetroNet and BKS can customize an Internet solution that meets your business' needs to put you ahead of your competition.
Plus, unlike cable, 100% fiber runs straight from the source to your business. So, your connection is yours alone, and you never have to worry about your Internet speed slowing down whether you're uploading or downloading, even during peak usage times.
MetroNet TV Services in Plainfield
Fiber IPTV from MetroNet delivers amazing video quality in both high definition and standard definition. Whether you're looking to provide your patients or clients with entertainment while they're in your office, or show the big game at your establishment, delivers the kind of viewing experience patrons have come to expect. In addition, MetroNet and BKS Systems offers:
24/7 local support
Expert technicians: On-time local technicians can help configure your fiber business solution to your exact specifications.
Dedicated account team
Metronet Business Phone Services in Plainfield
Off-site, Hosted PBX from MetroNet is the future of business phone. With its capacity, the innovative, easy-to-use system allows MetroNet to offer the kind of big business phone features small to medium-size businesses need. Switch to MetroNet's Hosted PBX for benefits, including:
Nothing on-site to maintain You won't incur any annual maintenance or labor costs because HPBX service is hosted off-site at the MetroNet Data Center.
Dedicated connection Your phones operate on a separate, dedicated 100% fiber connection, so you won't have to sacrifice Internet bandwidth in times of heavy phone traffic — or share your capacity with nearby businesses.
Flexibility Since Hosted PBX from MetroNet is a fully scalable system, your plan can easily evolve with your business, allowing you to pay only for what you need.
Total control Through MetroNet's HPBX CommPortal web interface, you can control all aspects of your phone service remotely from one secure website.
Lots of features A MetroNet phone system is equipped with all the features your business needs. Including automatic voicemail-to-email forwarding, mobile phone transfer, desktop applications, support for multiple locations under one system, and remote system control from anywhere.
About Chicago IT Consultant BKS Systems
Business Knowledge Systems has been a leading Chicago IT company since 2000. Our goal is to provide small- to medium-sized businesses all inclusive IT services that allow them to focus on their core business.
Our services include, but are not limited to:
BKS has grown its business through relationships and referrals from present and past customers. We have undergone exceptional growth and expansion since our inception; over 90% provided by referrals from satisfied clients.
BKS is committed to protecting your company's technology investments and providing the highest quality of advice, planning, and ongoing IT services to you, our clients. Contact us today to get your business on the right IT track.