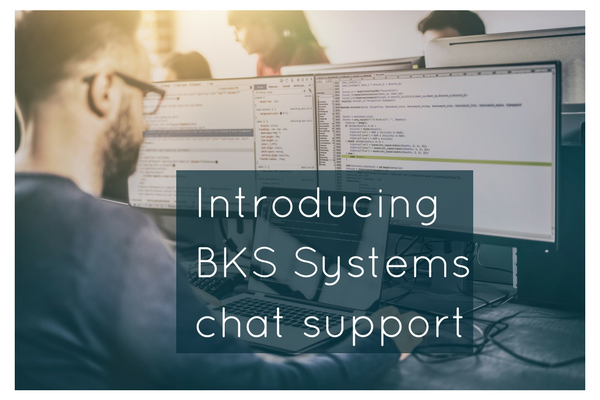 BKS Systems is excited to announce our brand new live online chat feature for IT support. With this new functionality we hope to speed response times to IT support questions and problems, allowing your business systems to be fully functional at all times.
Our new chat function appears on the bottom right corner of our desktop site and at the bottom of your mobile device screen, allowing our team of certified IT support professionals to discuss your problem in real-time.
During our regular business hours, the chat function will show our support team as online and you can expect a response within minutes. We will still be available during off hours, but response times may be slightly delayed.
For clients on fully managed IT program, you'll want to keep an eye on your task tray for the new chat icon that soon will be coming to our managed platform.
Our IT support ticket system will still be available for those that prefer to reach us how you normally do; however, we welcome the opportunity to provide you with more immediate service through BKS chat.
BKS IT Support Services
With expertise and leadership, our IT Support team provides daily operations of your business including:
24×7 onsite / remote support
Support help desk support services
Guaranteed service level agreements
Certified IT technicians
Endpoint management
Monthly reporting of all support calls for better control of IT spending
About Chicago IT Company BKS
Founded in 2000, Business Knowledge Systems (BKS Systems), is a Chicago managed IT consulting company, offering managed IT services, including IT consulting services, IT support services and cloud based implementation, support and management services. BKS Systems serves small to medium sized businesses in the financial and banking, logistics and transportation, and professional services sectors.