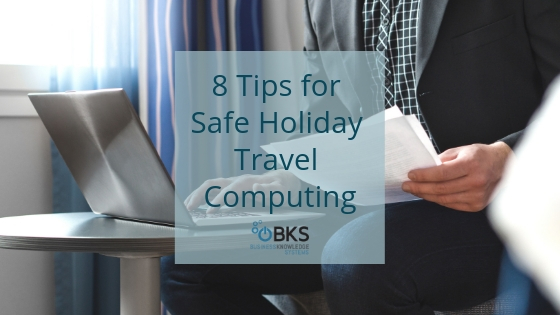 As the summer travel season approaches, many of us look forward to spending valuable time with family. Often, this takes us out-of-town to locations we're not very familiar with.
This time away from home also means time away from the office — something we all cherish. However, the demands of the job are never far away and many of us find ourselves working during our vacations.
Working outside the office and outside the safety of our normal secured networks presents risks to not only individual employees but also to companies as a whole.
So, we thought now might be a good time to remind everyone of the dangers of working outside the office and the steps you can take to protect yourself from attack from cyber-criminals.
Encrypt Storage Devices
Many of us rely on external drives for storage, especially while working on a laptop. To protect it, consider encrypting your external drives with a product like BitLocker.
Skip the Business Center
Refrain from using hotel Business Center computers to log on to company systems, especially email. There is virtually no way to ensure the safety of these machines and networks, so logging on could be inviting hackers to breach your valuable data.
Enable 'Find My Device'
Virtually all devices today are equipped with location services. These services allow you to locate the device if it should become lost or stolen. Police can also use this service to help you track down your gear.
Save it to the Cloud
For an extra layer of security, you may wish to save all work to secure cloud-storage services while you're away rather than saving data to your laptop or USB thumb drive.
Update, Update, Update
Ensure all your software and operating systems are patched and up-to-date before you leave your unsecured network.
Authenticate, Authenticate, Authenticate
Yes, we are very well aware of the headaches that can ensue from complex authentication processes. However, multi-factor authentication services are one of the best ways to protect you from cyber-theft. We recommend utilizing and enabling MFA for any services you are accessing while traveling.
Backup Before You Go
It's essential that you back up all important data on any device before you travel. Attempting backups on unsecured networks is a recipe for trouble as hackers troll these networks looking for opportunities to exploit vulnerabilities.
Use a VPN
Probably the biggest piece of advice we can give to travelers is to utilize a VPN client while accessing unknown wireless networks in places like airports, coffee shops and hotels. VPNs, or virtual private networks, will protect you against criminals accessing your devices through public WiFi. VPN clients are available for download from all applicable app stores.
Need Additional IT Help?
We realize that these tips may be a little complex, so if you need a hand implementing any of them, feel free to call the IT experts at BKS Systems. We'll be glad to help you take active safety measures to ensure your systems don't come under attack by outside sources.
Call our Help Desk today to get started on safe holiday computing! 630-491-1476.