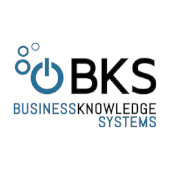 Did you know your Construction company is part of the Critical Cybersecurity risk?
You should be aware of the recent cyber threats designed to entrap companies like yours.
The Cybersecurity & Infrastructure Security Agency (CISA) recently released a statement on the increased and dangerous risks that construction companies face due to expanded cyber-attack surface areas and limited cybersecurity workforces. These attacks are aimed primarily at private businesses. A surge in attacks arose because many businesses like yours adapted to a remote work structure, which increased vulnerabilities in the authentication structure. Previously, a worker could physically access the premises and prove their authenticity. Now, work environments have adjusted to adopt more online practices.
Some construction facilities increased their use of robotic process automation. Unfortunately, this shift expanded to new unforeseen risks in the realm of cybersecurity.
Things like remote control, validation, and monitoring online increased productivity and escalated vulnerabilities. Due to rising concerns, CISA is calling for risk mitigation strategies from construction businesses. Additionally, construction companies must invest in cybersecurity training and analysts on remote monitoring.
What is Cybersecurity?
At the core, cybersecurity is applying technology to shield your network, devices, and all the data they contain from unauthorized exploitation. It's used to keep your data secure and to prevent hackers from accessing your network, installing viruses on your computer, locking you out of your network for ransom, selling you or your clients' information on the dark web, and more.
The Critical Things You Need to Know to Protect Your construction Business in 2022
Passwords aren't the only information you need to secure in your company. Too many business owners think purchasing antivirus software, turning their firewall on, and installing a password manager are enough to keep them safe from cybercriminals. Unfortunately, that's not the case. 2021 was a record-breaking year for cyber-attacks, and 2022 is likely to follow suit as more businesses either move online or adopt a hybrid model. 
Let's explore cybersecurity, the types of cybersecurity threats organizations experience today, and why completing a Cyber Risk Assessment today could save your business.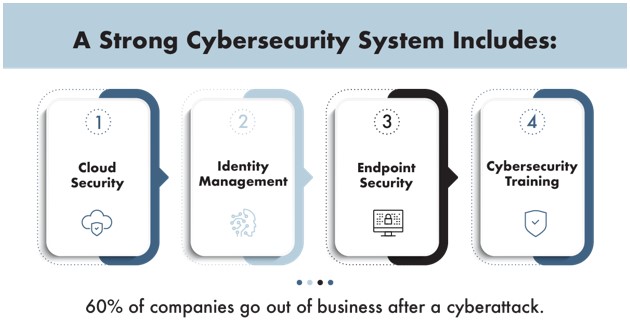 Here are several, but not all, necessary components of a robust cybersecurity system to consider: 
Cloud Security – are your digital files properly backed up and safe from unauthorized users?
Identity Management –  Track who in your organization can access private files.
Endpoint Security - are all devices (laptops, phones, etc.) secure? These are often entry points for hackers.
Cybersecurity Training – phishing is still the number way hackers get into networks because they know most employees can't recognize bad links. Would your employees pass a surprise test?
What happens if you DO get hacked?  Do you have a plan in place that your team is familiar with on how you'll recover your data and continue your business? 60% of companies go out of business after a cyberattack, and the reason is that most of them did not properly plan.
Why is Cybersecurity so Critical in 2022? As mentioned, 2021 experienced more cyber-attacks than ever before. Cybersecurity has become increasingly important as our society and business processes become more reliant on technology. But, as business processes have evolved, so have criminals. It's no longer the "lonely hacker in the basement." There are entire organizations where cybercrime is their business. They have employees who clock in each day to hack into businesses like yours.
It is a severe risk. No business is too small to be a target. When you implement a strong security system, you can protect your business against a full range of cyber threats and attacks. Cybersecurity gives you peace of mind that you don't have to worry about unauthorized users accessing your data or network and that your client's data is secure so you can focus on running your business.

Phishing
Phishing tops the list. Hackers send fake e-mails that appear to be from reputable companies (including your own) to get you to reveal personal information, passwords, credit card information, or even to install malicious software like ransomware on your computer.
DDOS Attack
The DDOS or the Distributed Denial of Service Attack arises when cybercriminals overpower the network or server by transferring too much traffic. It prevents the network from handling legitimate requests and makes the entire system unusable, stopping your business processes entirely.
Malware
This malicious software includes viruses and spyware that severely compromise your computer and its operations. Malware is commonly spread by downloads and includes malicious attachments and links in e-mails and more. You may have heard of these:

Botnets infect computers and cause them to perform various tasks online without permission from the device's owners.
Ransomware locks the data and files while sending a threatening message to delete the data if the payment is not sent.
Spyware records your actions to gather credit card information.
Man-in-the-Middle Attack
With more people working remotely, from coffee shops or while traveling, man-in-the-middle attacks are one to be aware of. These attacks typically occur because of an unsecured Wi-Fi connection that cybercriminals use to intercept the victims' data from their computers. It allows the hacker to subtly sit in the network and harvest information without users realizing it.
This list is barely scraping the surface of threats that business owners need to be concerned with. Unfortunately, it is a booming business for criminals. Cybersecurity Ventures predicted that cybercrime will cost the world $10.5 trillion annually by 2025. With that kind of money available, hackers are looking for new ways to break through firewalls and attack networks every single day.
Managed IT and Cybersecurity
So, what do you do to keep your network secure? Managed IT cybersecurity solutions are designed to keep your business protected. Using a co-managed cybersecurity strategy designed by IT specialists will help you ensure your cybersecurity is up-to-date and effective against attacks. When you work with the right team, they will assess your network to create a plan that will help secure your data and actively monitor to keep you secure.
The best part, a cybersecurity system doesn't have to be costly. Hiring a Managed IT Cybersecurity company will provide the knowledge, expertise, and results of your very own in-house cybersecurity specialist without breaking your budget. It often costs LESS than hiring one employee and getting a whole team of specialized experts instead.
We offer a FREE Cyber Risk Assessment for Construction Businesses in the Chicagoland Area.
We are offering to give away a Free Cyber Security Risk Assessment to a select group of businesses for a limited time. This is entirely free and without obligation. EVERYTHING WE FIND AND DISCUSS WILL BE STRICTLY CONFIDENTIAL. This assessment will verify a qualified 3rd party on whether your current IT company is doing everything they should to keep your computer network not only up and running but SAFE from cybercrime.
Here's How It Works:  At no cost or obligation, one of my lead consultants and I will come to your office and conduct a non-invasive, CONFIDENTIAL investigation of your computer network, backups, and security protocols. Your current IT company or guy DOES NOT NEED TO KNOW we are conducting this assessment. Your time investment is minimal: one hour for the initial meeting and one hour in the second meeting to go over our Report of Findings.
When this Risk Assessment is complete, you will know:
IF you and your employees' login credentials are being sold on the Dark Web. We will run a scan on your company, right in front of you, in the privacy of your office if you prefer (results will NOT be e-mailed or otherwise shared with anyone but you). It's RARE that we don't find compromised credentials – and I can guarantee what we find will shock and alarm you.
IF your IT systems and data are truly secured from hackers, cybercriminals, viruses, worms, and even sabotage by rogue employees.
IF your current backup would allow you to be back up and running again fast if ransomware locked all your files. In 99% of the computer networks we've reviewed over the years, the owners were shocked to learn the backup they had would NOT survive a ransomware attack.
IF employees truly know how to spot a phishing e-mail. We will put them to the test. We've never seen a company pass 100%. Not once.
IF your IT systems, backups, and cybersecurity are in sync with compliance requirements for HIPAA, GLBA, and SOX, and using best practices to ensure cybersecurity and compliance.
If we DO find problems?
Overlooked security loopholes, inadequate backups, credentials that have been compromised, out-of-date firewall and antivirus software and (often) active malware…on one or more of the PCs in your office, we will propose an Action Plan to remediate the situation that you can have us implement for you if you choose. Again, I want to stress that EVERYTHING WE DISCUSS AND DISCOVER WILL BE STRICTLY CONFIDENTIAL.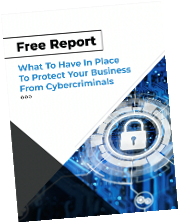 Not Ready To Call Just Yet?
Download this FREE guide for Construction Businesses in the Chicagoland Area. In this guide you will learn the urgent and critical protections every construction company must have in place NOW to protect their bank accounts, client data, confidential information, and reputation from the tsunami of cybercrime.
Here's how to request your FREE Cyber Security Risk Assessment:
Dedicated to your peace of mind,

Chad R. Holstead
CEO, Business Knowledge Systems