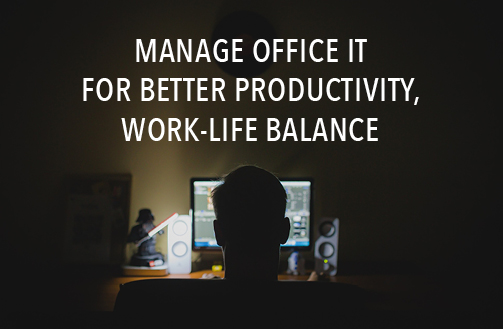 The latest in technology has been both a blessing and a curse when it comes to worker productivity. It's a blessing for keeping in touch when you're away from the office, and it can be a curse when it comes to managing a healthy work-life balance. We often talk to HR managers or small to medium-sized business owners who struggle to help employees manage the amount they do away from the office and work efficiently while in the office. Here are some tips to help on both fronts.
Properly manage email. Responding to every email that comes in as it comes in is a productivity killer. Normally what ends up happening with this method is that workers become distracted from tasks at hand as they respond to email. Instead, employees should dedicate just a few times during the day to responding to email. That way they can keep on task throughout the rest of the day.
Keep a calendar Without a calendar to keep track of daily tasks employees can often find themselves wandering unfocused from task to task. This is also a productivity killer. Calendars kept in an email client or in an application like Microsoft Office 365 keep employees focused on completing each item and moving quickly to the next. We also recommend co-workers synching their calendars for maximum office-wide efficiency. Make sure to get calendars synched on company work phones, as well. That way, employees can get reminders during work hours when away from the office.
Keep smartphone use to a minimum Like the invention of the laptop computer, the proliferation of the smartphone has tethered employees to their work while at home in an alarming fashion. Employees are increasingly expected to check and respond to work emails beyond normal working hours. Make it a point to not email employees or co-workers after hours.
Perform system backups and updates often Keeping on top of system backups and IT updates is the only way to avoid catastrophic failures, which can cost your business financially and in productivity. If your business does not have someone qualified to ensure the readiness of your systems, you may consider hiring a firm like Chicago IT consulting company Business Knowledge Systems in Plainfield. Our certified IT professionals work to keep your IT systems up-to-date and secure from outside attack.
Migrate your systems and storage to the Cloud As a Managed IT provider, BKS removes the stress of migrating your business' IT systems and storage to the cloud while you focus on increasing the company's bottom line. Cloud-based systems increase productivity by mitigating downtime due to broken down or outdated hardware. If your business isn't ready to commit fully to the cloud, ask us about hybrid solutions.
ABOUT BKS
BKS has been a top Chicago IT company for over 15 years. We provide  all-inclusive IT services, cloud based backups and storage, spam/virus filtering and monitoring, endpoint management and Microsoft Office 365. Contact BKS today or call 630-357-8385 to discuss how to maximize employee and company IT productivity.