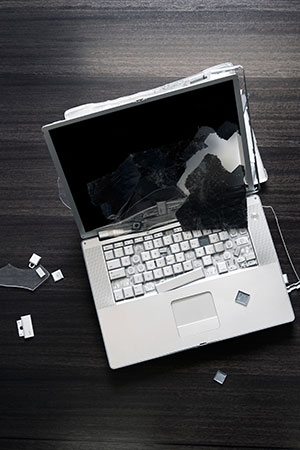 As a small business owner you know that taking vacation or time away is a pretty rare occurrence. Do you really ever get time off? Probably not.
So, imagine if while you're sitting on the beach far from your business, your company's computers or IT systems crash. What would you do? What could you do? Short of canceling your vacation and rushing home to fix the problem, your options are limited.
This exact scenario happens to business owners more often than you might think. It's the reason we recommend all small to medium size business owners not only consider contracting with a managed IT consultant, but one that will develop an IT disaster recovery plan that provides 24/7 peace of mind.
What is an IT Disaster Recovery Plan?
An IT disaster recovery plan is custom designed for you to fix immediate IT problems and get your business systems up and running as fast as possible. Some businesses rely on their IT more than others. However, in today's world just about every business needs some sort of IT to keep it running from day to day.
BKS Systems has been assisting small and medium sized businesses with IT since we got our start in 2000.
Our IT pros work with your business to ensure a plan is in place and everyone at the company is informed of that plan and understands it. One of the most important parts of your IT Disaster Recovery Plan is communication. We work with you and your employees to not only develop the plan, but to implement procedures, including department and individual expectations, and testing.
If you or your business has had the unfortunate occurrence of surviving a natural disaster or malicious hacking, you understand the importance of creating business continuity and IT disaster planning. If you've been lucky enough to never have been the victim of an attack or disaster, BKS Systems can ensure you have the precautions and contingency in place for anything that may severely negatively impact your business.
As Chicago's leading managed IT provider and IT disaster recovery plan consultant, our goal is to keep your business running while keeping a copy of all data safe should a disaster strike.
Our IT capabilities with business continuity and disaster recovery planning include:
Researching, analyzing and determining the best data protection solution for your individual business needs
Full operating environment recovery
Scheduled, automatic backups
Mock disaster testing
Determining cloud resources that work for you, considering data protection and IT resiliency
Restoration options
Backup reporting
With BKS Systems Managed IT Services, no matter where you may be your company enjoys the insurance of knowing your data and systems are safe if disaster strikes. BKS' experienced IT consultants provide all the benefits of an in-house IT team without the financial and organizational downside. With our custom-built IT disaster recovery plans, we will protect your mission-critical data and alleviate concerns over data loss affecting the bottom line.
If your company needs IT help, but isn't ready to hire a full-time employee or needs to bring additional help for your dedicated IT department, contact BKS Systems today!