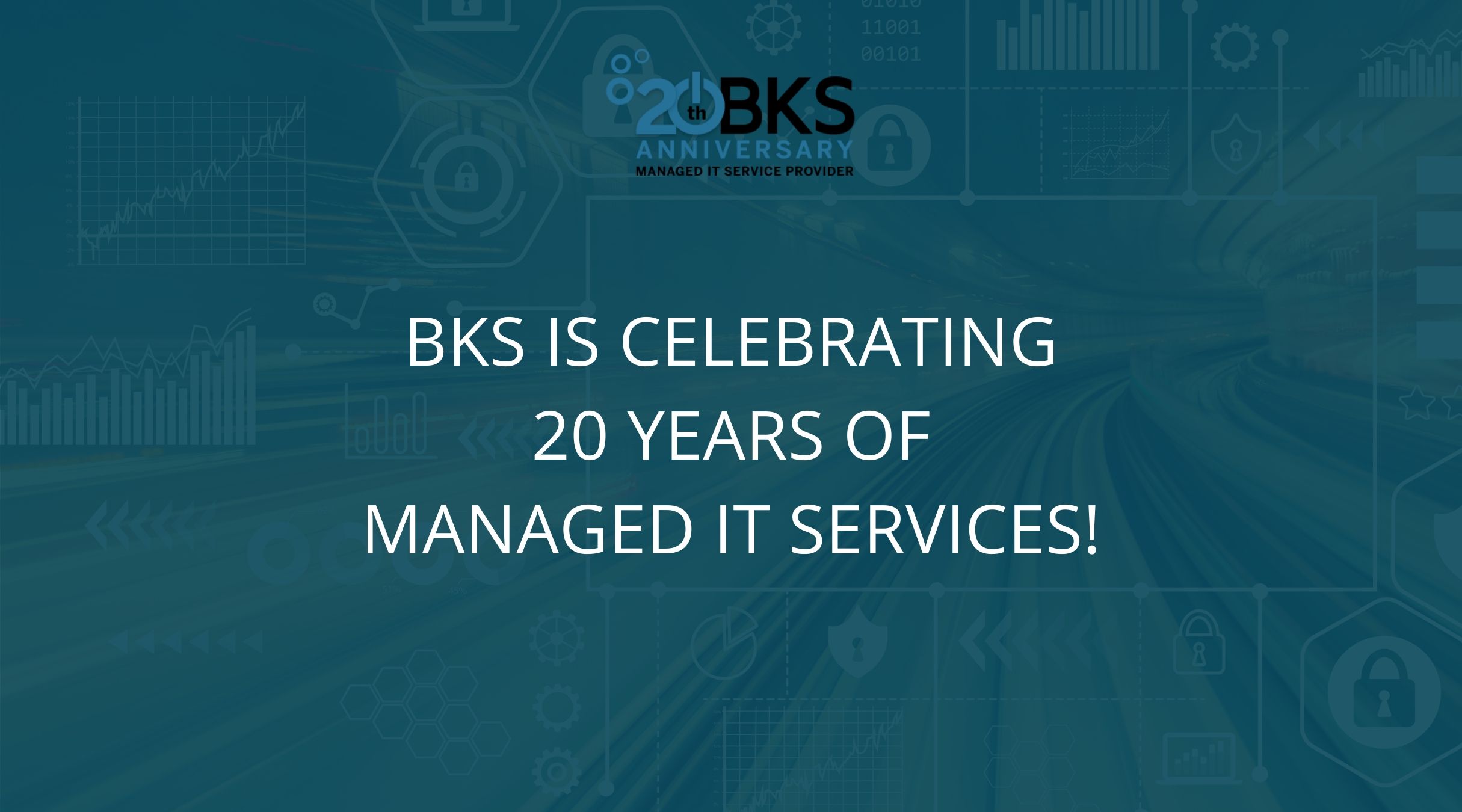 We live in an amazing age. Without exaggeration, it could easily be said the advancements in technology in the past 20 years have done more to change the world through commerce, communication and connectivity than any other previous time.
And at BKS Systems, we've been here for just about all of it. When I began BKS 20 years ago with just one client, never in my wildest imagination did I think we would be where we are today. With nearly 20 employees and dozens of clients across the United States, BKS has grown to one of the leading Managed IT Service providers in the Midwest.
As BKS has grown and changed, so too has technology. As we celebrate our 20 years in business, I took some time recently to think about the many changes in technology we've seen and what it has meant not only to our business but also to yours. Here are just a few of the things that are foremost in my mind:
Internet
I know this is a surprise, with how ingrained the internet is today in our daily lives, back in 2000 many businesses did not have high-speed internet, and some did not have any internet at all. 2000 was one of the largest growth years for high-speed internet.
Email
As many businesses did not have internet yet, business email was still in its infancy. Many business owners and employees would use AOL email address if they communicated via email at all.
Websites
In the mid-2000s as the internet became cheaper, faster, and more available, many companies began investing in their website infrastructure, including securing corporate domain names. Many businesses started switching from AOL and personal email accounts to corporate email accounts with their specific branded domain name.
Wifi
The introduction of wireless internet connectivity and the installation of WiFi hotspots at sites like Starbucks allowed sales teams and employees to be much more productive. No more waiting to go back to the office to send a quote to a customer!
iPhone
In January of 2007, Apple launched its very first iPhone. This was a game-changer as it allowed employees to now communicate with customers and team members at all times. It also put all the information of the internet right at your fingertips.
Remote connection
Go to My PC and other companies allowed ease of access to corporate data to employees that did not want to lug heavy laptops around.
Remote support
With remote connection software, IT support costs decreased and resolution time also dropped. Now your IT support team can remotely fix your issues instead of having to send someone onsite.
The Cloud
What is the cloud and how will my business ever need it? That was the question everyone was asking in the late 2000s. Well, today just about all software and data are stored in the cloud.
Office 365
Microsoft Office 365 as we know it today was first launched in February of 2013. This software was the first real large scale effort to move business software and data to the cloud. In 2017, Office 365 revenue overtook that of conventional license sales of Microsoft Office software for the first time and continues its dominance today.
4g LTE internet connections
4g LTE connectivity brought faster and faster internet on your mobile devices. The development of 4g LTE allowed for the birth of an unending supply of streaming and downloadable content to mobile devices on platforms like Netflix, YouTube and Hulu.
Fiber
Fiber internet to the house is now almost standard in most urban areas. This allows for more and more content to be streamed and stored on the internet. Most businesses also are now using Fiber internet, allowing for faster and more reliable service for their customers.
Cyber Security
As internet usage and cloud usage skyrocketed in the mid-teens, so did the hackers. Today business spends more on cyber defense then they ever have in the past. Read more about the future of cybersecurity in our latest blog.
All of these advancements in technology have created a world that is forever shrinking. Information that would take days or even weeks to receive through non-digital methods is now available in an instant. At BKS we are very excited to see what the next 20 years hold. If it's anything like the past 20 years, we are in for some amazing new developments.
We also want to take a moment to thank all of our clients, past and present, that have allowed us to grow in and deliver our top-notch Managed IT Services to a diverse list of small to medium size businesses. We couldn't have done it without you.
Here's to another 20 years!
Chad Holstead, President