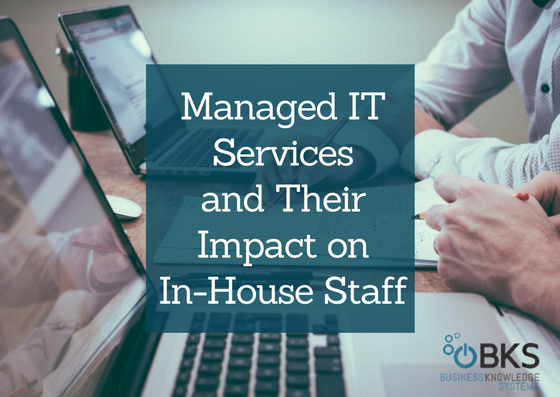 Small-to-medium-sized businesses normally don't have the resources to fully support all IT needs. Even if your business has IT employees on payroll, they're often so busy with daily tasks that their talent is misdirected.
Business owners should know that the core of their business infrastructure is vulnerable if those IT employees are overworked, which can lead to costly human error. These employees aren't adding as much value to your business as they should be.
According to research, over 65 percent of IT budgets go toward tasks that do nothing more than keep the lights on. This means SMBs investing in their technology aren't necessarily improving operations and efficiency or enhancing their security.
---
Outsourcing Is Not Necessarily Negative
Today, managed service providers (MSPs) are used by small businesses to manage, service and support their IT processes in a cost-effective way. Managed Service Providers are often called in as an alternative to adding additional IT staff. Unfortunately, this move can be seen by employees as an effort to outsource work, thus threatening job security.
In this blog we will explain how a hybrid approach, utilizing managed services, cloud services, and internal IT support can be the best solution for many SMBs. They simultaneously help SMBs achieve a greater return-on-investment on their IT costs, while allowing existing in-house IT resources to work in more valuable development roles.
Many repetitive daily tasks are performed by in-house IT support and should be automated. While this could be seen as evidence that on-site staff aren't necessary, that's just not true. Your current IT support can leverage all of the benefits of MSP services such as:
ƒProactive management
Remote monitoring
Help desk operations
Around the clock network operations center
Disaster recovery/business continuity services
Security audits/updates
The services of an MSP free your IT team from much of the routine daily maintenance. Now they can focus on long-term IT planning and other essential tasks that can help your business grow.
---
Focus, Direction and Prioritization from Your IT Team
Employing the services of an IT Managed Services Provider also gives existing IT support some much needed focus and direction. Most MSPs offer a free consultation and network assessment that evaluates the overall performance and health of your business' IT infrastructure. From there, the MSP may recommend the products or services most beneficial to current IT needs.
This evaluation helps internal departments determine what system oversight and future planning they should be doing. A list can be generated in which projects are evaluated and ranked by needs. Any routine system maintenance should be performed by the MSP while in-house IT focuses on projects that could drive down costs or increase revenue.
---
Reducing the Costs of Human Error
As we've written about previously, a high percentage of costly security breaches are the result of human error. This is often because IT employees are stretched too thin and overlook vital security measures, such as applying tested security patches or updating antivirus software programs.
Working with an MSP can help mitigate much of the work overload that often leads to security vulnerabilities. Systems can be backed up in the cloud for an immediate full system restore if needed. Internal IT support will no longer bear sole responsibility for the constant availability and security of stored data.
Many of the issues that become costly business disruptions for SMBs, such as downtime-inducing hardware, software, and application failures, are completely preventable if they're detected and addressed early enough. It's a reality that your systems run 24/7, but you likely don't have the resources right now for a 24/7 IT staff.
---
MSPs Are an Extension of Your Business
Many SMBs have some incredibly gifted and skilled IT employees on staff that are burdened with way too many responsibilities and tend to get stuck in a routine each day. These employees would be solid contributors to your business if they weren't running around extinguishing tech fires and handling monotonous tasks that are below their skill-level.
A good MSP acts as an extension of the business they're servicing. SMBs and MSPs will work very closely together but caution must be taken, as any internal IT staff will likely consider a MSPs presence to be intrusive and a threat to their job security.
SMBs must convince their internal staff that embracing the cloud and leveraging the service desk and tools of a MSP will only make their jobs more manageable and less stressful. Freeing them from manual tasks will allow them to work on projects that matter, such as developing apps, concepts, and strategies that will benefit the company or organization's bottom line rather than spending the day tending to the intern's computer after she clicked a malicious link in a phishing email.
---
About Chicago IT Consultant BKS Systems
BKS Systems has been acting as an MSP to Chicago's banking, logistics and healthcare fields since our founding in 2000. We have grown our business through relationships and referrals. BKS Systems is committed to protecting your company's technology investments and providing the very best in IT planning, support and ongoing IT services to our clients.